When you are designing your online course, it is important to make sure that learning is not a lonely venture for your students. Be sure everyone, including you, has an opportunity to interact regularly in the online classroom. The two general strategies for interacting/communicating in an online course are: Asynchronous and Synchronous. In this post we will focus on Asynchronous Communication strategies specifically in the Blackboard Learn LMS.
What is Asynchronous Communication?
Any communication and/or activities that take place outside of real time are asynchronous because they occur whenever students have the time to complete them. Viewing lecture videos, reading their textbook, or writing a paper are all asynchronous activities that the students undertake while taking an online course. Examples of asynchronous communication include course related announcements, an email from a student, discussion boards etc.
Let us look at some common asynchronous communication tools in Blackboard that can be used in your online course.
Course Announcements
The Announcements tool in Blackboard is something you can use occasionally, or every week if you choose to. Announcements are a quick and easy way to:
Welcome your students to your course and orient them to your course (this can include a welcome video)
Send overviews or summaries at the beginning/end of each section (week/unit/module etc.)
Reminders about upcoming assignments or tests (these can be set up automatically)
Note updates/changes in any course content, due dates, grades etc.
Share interesting things related to the course content
Clarification of any frequently asked questions

Blackboard's Announcement Tool Help Page has detail instructions on how to add, edit, and delete announcements in your online course.
You can also use 3rd party tools such as SoundCloud (record sounds/audio), Voki (speaking avatars), or Tellagami (iOS only) to create and share audio/visual announcements, which can be embedded in your online course.
Keep in mind that if you decide to use any audio/video component, you will have to ensure that it has associated and accurate transcript/closed-captions.
Icebreakers
It is always a good idea to have some sort of an icebreaker activity such as an introduction forum where your students can get to interact and know a little about each other. And, get to know you, their instructor, as well.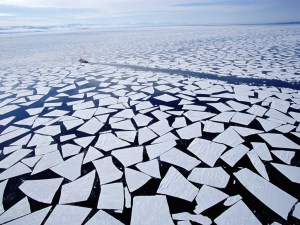 Photo Credit: Toastmaster Project 1-Ice Breaker
by Pavan Bhat | CC BY-NC-SA 2.0
For example, you can have an "Introduce Yourself" activity which also requires participants to share two truths and a lie about themselves. This can help establish a sense of community among everyone and will also allow them to share or discover common interests if any. If time permits, you can welcome each student individually. Or, you can start off by introducing yourself first thereby establishing some guidelines. You will be surprised how much the students will respond to your lead! Try uploading a picture in your brief intro, and you will see students do the same. And, it will make the experience much more personal.
Discussion Boards
Online discussions are one of the main ways for you to start, sustain, and nourish a sense of community in your course. Students like to talk, like it when others seem to be listening, and like a sense of not learning alone. They like having a place to share their thoughts, get them validated, and maybe even teach others! Discussion boards and forums allow you to set up such spaces for your students.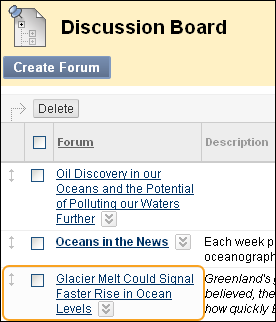 Photo Credit: Managing Discussions
by Blackboard | CC BY-NC-SA 2.0
The success of your discussion forum will depend on your discussion question itself. Here are a few pointers to have good discussion questions:
Make sure that the question refers to what they were supposed to read and asks them to use what they should have read in their response – if you ask them to use evidence/examples from the reading, students are more likely to not skip the readings!
Ask them to apply the new knowledge to something like a case study or a practical situation – being able to apply it to a situation, be it a personal situation of their own or a situation that you provide them, is key to learning. Also, students will and should have varied answers so there's less chance of cheating!
Have a personal component by asking for their own experience, opinion, or reaction to the topic at hand – by having a personal component you allow personal reflection and application. Again the responses will vary widely and will be much more interesting to read for you and them!

Blackboard's Discussion Board Help page has detailed instructions on how to manage discussions for your online course.
Blogs, Journals, and Wikis
Blogs, journals, and wikis are interactive tools available in Blackboard that allow you to create web-spaces for your online students to share their thoughts and work.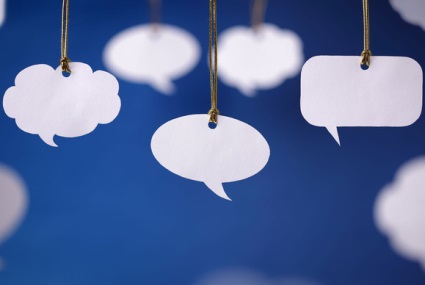 Photo Credit: Reasons You Should Start Blogging
by Colleen Lee | CC BY-NC-SA 2.0
Blogs are short for web logs and can be used by your students individually, in a group, or course-wide to share thoughts, ideas, and work. Other students can comment on blogs and provide feedback or suggestions. One writing instructor at Ole Miss created a "Blog Party" in her online course to engage her students.
Journals are a personal space for your online students to communicate in private with you. You can have your students post their personal ideas, concerns, or opinions, and/or candidly discuss what works for them and what doesn't. My Business Statistics instructor in grad school had a daily journal assignment for his students asking us to note one significant thing we learned in every class that we did not know before. While that was a traditional class, this can easily be translated to an online interaction using journals.
Wikis are collaborative spaces that can be updated by multiple students and can serve as a repository of information or resources such as a study guide, or important notes etc. You, as an instructor, can view all the changes made and the related time-stamp.
Blackboard Help for Instructors has details on how to set up and manage Blogs, Journals, and Wikis in your online course.
All of the above can be set up to be graded or ungraded based on how you choose to use them in your online course. The important thing to remember is to have specific and detailed instructions on what the students need to do, if you do decide to use any of them in your online course. The most commonly used tools are often Announcements and Discussions, but don't let that stop you from thinking out of the box.
Happy Teaching!