What is it?
Google Classroom is a web-based learning platform designed to integrate with Google Apps (Google Docs, Gmail, Google Calendar, etc.) to simplify communication, assignments, and grading in a secure and organized way. It's accessible via the web and has apps for both iOS and Android devices, so you can remain connected to your classroom with notifications on your iPhone or tablet.
I started using Google Classroom with my blended course last fall and will continue to use it for communication with students, document depository, assignment distribution, and the online grade book. For a writing intensive course, it has been an excellent tool to use with Google Docs to incorporate collaborative writing assignments and peer feedback activities. Student feedback has been positive and they have likened it to using Facebook.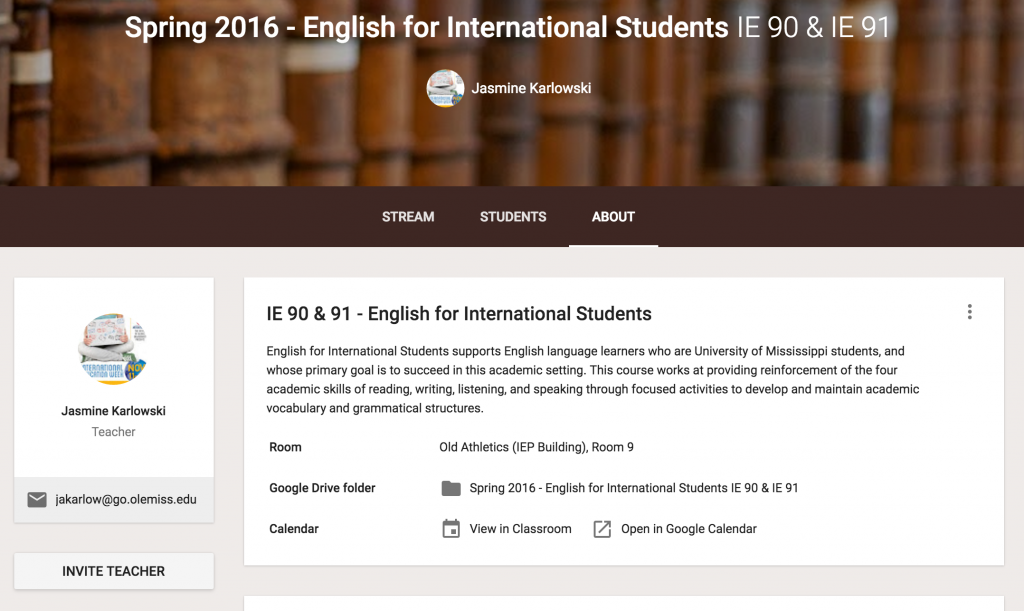 What I really like about it:
1) Ease of communication
Instructors can easily create announcements and pose questions to the students. Once students have the app installed, they immediately get notifications and can then respond. Additionally, an email goes to their student email account. I've seen an improvement in online classroom participation and found that it created a more dynamic online environment.
2) Digital creation and collection of assignments
Google Classroom integrates seamlessly with student's Gmail "go.olemiss.edu" accounts, Google Drive, Google Apps. All assigned writing assignments can be completed using Google Docs or uploaded as a Word document.
3) Improves organization of materials and due dates
Access to the class' Google Calendar is instantaneous when a student enrolls in a course. For every assignment that is assigned, an entry is created in this calendar.
4) Feedback and grades
Google classroom allows for instructor feedback and grading on every assignment that is created through the platform. Additional feedback and/or collaboration capabilities exist within Google Docs. Instructors can choose to deliver feedback immediately to the individual student or wait to deliver it as a class.
5) Security, compliance, and accessibility
Classes set up on Google Classroom are only available to those enrolled in the course. Teachers can choose to either enroll students manually or provide them with a seven character class code to enroll themselves. Google Apps for Education core services comply with FERPA. Additionally, Google Classroom is accessible for students that use screen readers.
Recommendation:
Overall, Google Classroom isn't a replacement for Blackboard or another LMS; however, I have found it an exceptional complement to support blended learning.
How to get started:
Google Apps for Education are available as free applications for all faculty and students at the University of Mississippi. If you're interested in using Google Classroom as a faculty member, you'll need to have an account with go.olemiss.edu.