What I like about PresenterMedia
1. Variety and diversity
The variety of Prese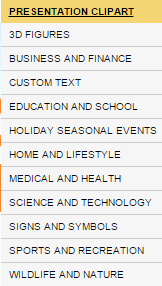 nterMedia content is impressive. The clip art represents thousands of scenarios with non-gender and non-race specific figures. In addition, it features hundreds of symbols, icons, and images, many of which are customizable, that can be used for all different types of presentations. Another great feature is the PowerPoint templates. These are not simply backgrounds that you've seen in the PowerPoint tool, but are rather slide designs and animations based on a theme. They are created in such a way that it is easy to customize them to your specific presentation needs.
The video below was made by customizing a PresenterMedia PowerPoint template, saving it as a video, and publishing it on YouTube. I made the mistake of adding too much text to the slides, but the video gives you an idea of the type of animations available in the templates and the range of images and gifs you can insert in them.
2. Quality of images and gifs
I love PresenterMedia's high quality images and animations. You can see in the above images the detail that goes into each one including shadows, fine detailing, and realistic postures and facial expressions. The images don't lose focus when resized and they can be downloaded on either a clear or white background so they can be seamlessly added to any design style.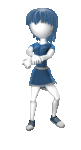 3. Ease of use
The web library itself is very easy to navigate with the media arranged by type, and within each type, being arranged by theme. There is also a search engine to help you find specific images. All PresenterMedia images come with alt text descriptions for screen reader accessibility. Additionally, all media can be downloaded for reuse, the PowerPoint templates come with pre-programmed animations, and the support resources are extensive, including tutorials, an active blog, frequently asked questions, and a variety of means to contact customer support. Finally, PresenterMedia can be uploaded into your PowerPoint software as an add-in so you don't have to go to the website or download images in order to find and use them in your PowerPoint presentation.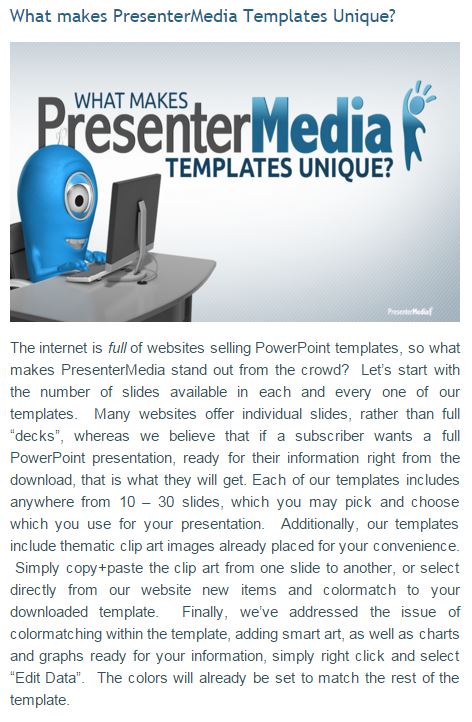 What I would change about PresenterMedia
The only criticism I have of PresenterMedia is that despite the scenario and gender diversity of their figures, the default setting for most figures is white. Related to this is a lack of diversity in terms of religion and non-western cultures, with figure clothing and scenarios being mostly western. The animators could do a lot more work here making this a tool that reflects a more diverse and global community.
Cost
PresenterMedia is incredibly affordable for what it offers to its customers. An added value is the ability to download and use their media even after your subscription expires or is canceled. For educators not interested in selling presentations, the licensing terms are more than generous.