Yellowdig is a student engagement tool that operates with the look and functionality of social media, but without the data-mining-for-sale to third parties that generally finances 'free' social media sites. Yellowdig can operate as an external link, but the business platform is to charge universities so that the tool can be an add-on to the Learning Management System (here at UM we use the Blackboard LMS).

What I like about Yellowdig:
Social Media functionality
As you can see, Yellowdig has many features you'll find in social media tools including posts with thumbnails, embedded video, like button, bookmarking, and a visually logical thread progression.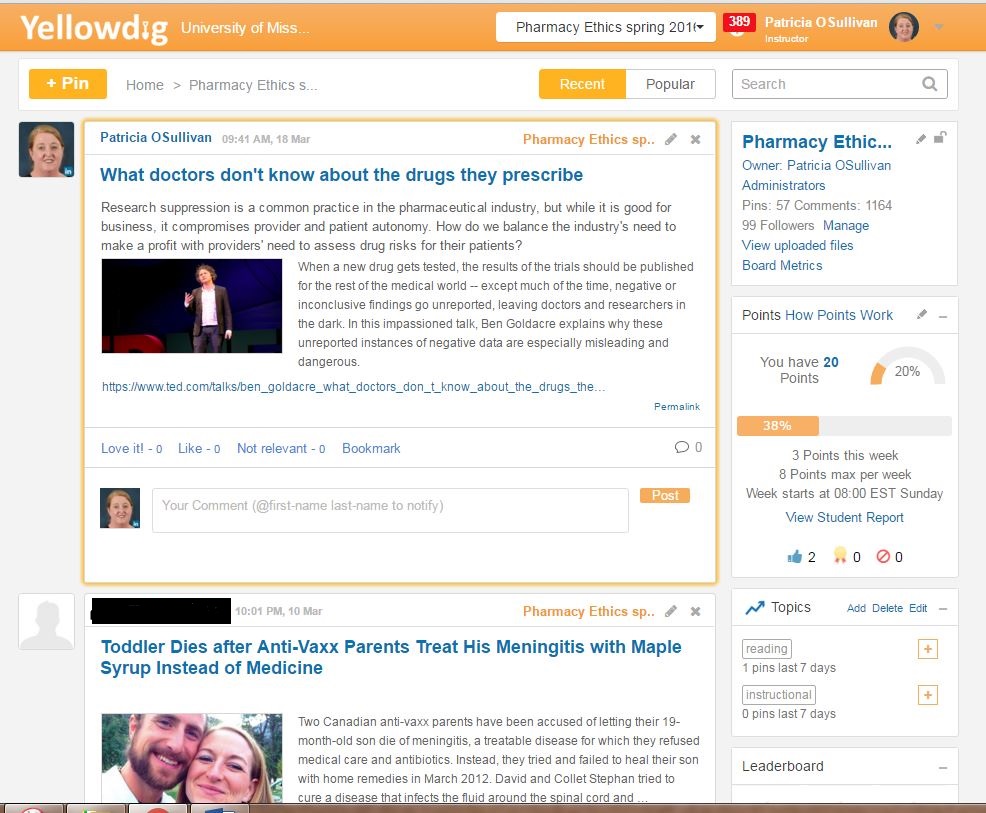 Student engagement tracking
Yellowdig allows instructors to assign points to various engagement activities such as posting, commenting, liking, and clicking on links. Points can be assigned weekly to derive a participation score for the semester or a period of the semester. The tracking system also tells instructors when students post and what their word count is.
FERPA compliance 
Any data that Yellowdig gathers is for the benefit of the student and the instructor, not a third party purchasing information for marketing or other profit-purposes.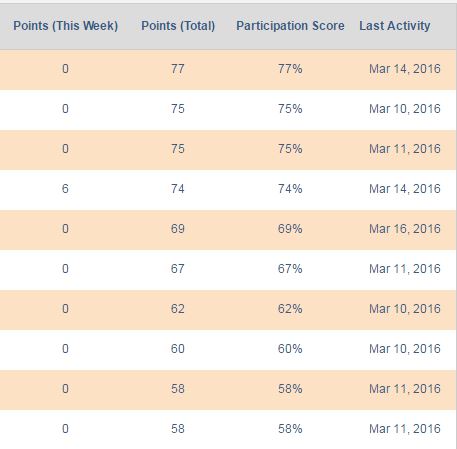 What I would change about Yellowdig:
Inability to gather detailed individual student data
With my free version, I was able to get detailed data on student engagement by downloading an excel spreadsheet, but the data was not organized in such a way that I could view individual student reports. I'd like to have individual reports on student use of Yellowdig that is presented in a chart, like the one to the left, rather than having to manipulate a spread sheet.
Cost
Free version – no integration with the school's learning management system.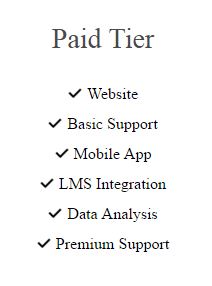 Paid tier – The cost for the product is not available on the website. It is my understanding that Yellowdig seeks institutional adoption rather than individual instructor adoption so that once it is available on the LMS, it is available to the entire university community. Because institutional populations and needs vary so much, Yellowdig does not have one basic rate by which to compare it to similar products.