Zoom (zoom.us) is a web-based service for online meeting and video conferencing. It works on Windows, Mac, and mobile devices that run iOS and Android. Zoom is comparable to Skype and Google Hangouts but anyone can join a Zoom meeting without having an account.
Dr. Jaime Cantrell, Visiting Assistant Professor of English, tested out Zoom functionalities. Here is her video review.
Why You Should Give Zoom a Try
An online meeting tool like Zoom provides a space for discussion and collaboration in real time. This is especially useful for online students who don't normally see their instructor or classmates. It reduces learning barriers and uneasiness from lack of communication. Zoom delivers that space with an informal, face-to-face feel while keeping it simple on the surface. And that's a good thing.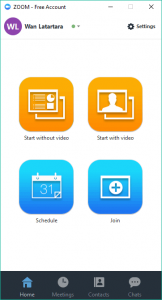 Easy to Set Up and Use
Set Up: It only takes a few minutes to start using Zoom. You will need to sign in to host a Zoom meeting. You may sign in with Google or Facebook or sign up for an account with Zoom. After that, download and run Zoom, and you are ready to go. Your students or anyone can join the meeting through email invitation. They can join via computer, smartphone, or toll-free phone number. People who are not as comfortable with video conferencing may find it less challenging to use than other services.
Clean & Simple Interface: You can operate Zoom with simple buttons and icons. Everything is organized in an intuitive way. The main screen shows video of the person who is talking. Frequently used features such as share screen, chat, record, are just a click away.
Good Quality
Zoom supports high definition video and audio. While most webcams will do just fine for general use, you can connect to a HD camera for higher quality images. Voices come through clearly without static or pops. 
Powerful & Packed with Features

Control: Unlike Google Hangouts, you do have control over students/participants in Zoom. You can mute them, turn off their video and screen sharing option, allow them to record, and promote them to host or co-host so they can facilitate the meeting.
Screen Sharing: Share a window, the whole screen, or the screen of an iPhone/iPad connected through wifi. You and your students can co-annotate during screen sharing. This also includes the whiteboard option.
Chat: Chat with an individual or everyone. Chat transcript can be saved in plain text format.  
Recording: Record the meeting and save it to your computer. You can record video with audio (MP4) or audio only (M4A).
In-Meeting Features: You may activate more features as needed. Features of note are breakout rooms, file transfer, closed caption (assign someone to type), auto-saving chats, automatic recording, etc.
Cost or Lack of It
All of the above features come with the basic Zoom account. Did I mention it's free? There are limitations but they are not as restrictive as other free services out there. Meetings of more than two people can last up to 40 minutes. Zoom allows you to meet with up to 49 others, as opposed to 9 on Google Hangouts. You can have one-on-one meetings for as long as you wish.
Accessible
Zoom is compliant with Section 508 of the Rehabilitation Act and Web Content Accessibility Guidelines – WCAG 2.0. 
Interested in Zoom? Get an account and try it out. I find their weekly webinars – recorded or live – to be highly useful for getting started.