Transforming the Teaching & Learning Environment Virtual Conference Feb. 3 through 14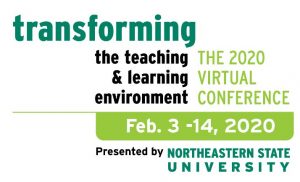 The Office of Academic Outreach is sponsoring the live broadcast of Transforming the Teaching & Learning Environment: The 2020 Virtual Conference presented by the University of Idaho's Distance & Extended Education Initiatives. Everyone in the University of Mississippi community can take advantage of 60 live, one-hour online sessions over the course of two weeks to engage with other educators. Topics range from gamification to mobile learning to flipped classroom to emerging technologies and more. Visit the virtual conference homepage for more information.
To Join a Conference Session on Your Computer:
Go to the Conference Schedule and explore the page to see all available sessions.
Using the links "Links" menu, select the link to "Join Session" of the session you wish to view.