Transforming the Teaching & Learning Environment Virtual Conference Feb. 1 through 12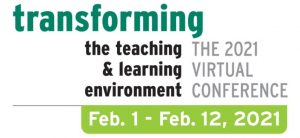 The Office of Academic Outreach is sponsoring the live broadcast of Transforming the Teaching & Learning Environment: The 2021 Virtual Conference presented by Northeastern State University. Everyone in the University of Mississippi community can take advantage of 60 one-hour sessions using Zoom as the platform.  Each session will be captioned.  The conference website has more information about using Zoom.
Register for or Join a Conference Session:
Go to the conference website to see the schedule of sessions.
Each session will have a Zoom link associated with it.  Click the Zoom icon and enter your information. Then, click Register.
You will be taken to a meeting registration approved page like the one below.  Then, you will be able to add a reminder to your calendar or enter directly into the session.
Recordings
Each session will be recorded and made available within about an hour after the conclusion of each day's sessions.  On the schedule page the link for a session will change from the Zoom icon to "View Recording".  The recordings will be available for at least one month after the conclusion of the conference.  Participants will also have access to session recordings from previous conferences.