Online instructors at varying levels of experience are constantly challenged by the feat of motivating and engaging students. While most instructors do a fine job at keeping students engaged in a face-to-face course, many stumble when it comes to maintaining the same level of engagement in an online environment. If you are one of those who battle the distance and lack of physical contact in your course, take a look at this research-based resource.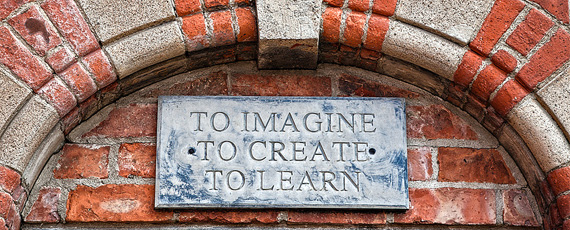 Adding Some TEC-VARIETY is a great resource for new and existing online instructors looking to engage and motivate their students. The book is available on the website of the same name tec-variety.com and is licensed under a Creative Commons License. In the book, Curtis Bonk and Elaine Khoo introduced TEC-VARIETY, a 10-principle framework that addresses different aspects of learner motivation in online environments. Following their belief that motivation provides the core structure for online learning process, they created the framework to help educators find activities and strategies that will help boost online student engagement and student success.
TEC-VARIETY principles are based on four learning theories that provide different perspectives on learner motivation over the decades: Behaviorism, Cognitivism, Constructivism, and Sociocultural Views. The framework aligns with results from studies that online learners have increasing responsibility for their own learning from developing their own internal thinking process to collaborating and interacting with others, while online teachers take on a more supportive role such as a coach or guide on the side or an equivalent role such as a co-learner or curator of information.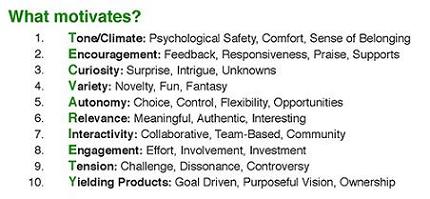 The ten motivational principles of TEC-VARIETY are:
T – Tone/Climate:

Psychological Safety, Comfort, Sense of Belonging
Establishing a safe and welcoming learning environment at the beginning of the course helps learners feel at ease in the new course.
Example Activities: Icebreaking activities such as Two Truths and a Lie, personal introductions, and online scavenger hunts can help learners and instructors get to know each other.
E – Encouragement:

Feedback, Responsiveness, Praise, Supports
Feedback is monumental for online learner success. Prompt feedback helps learners achieve intended learning outcomes and keep them focused towards the course goals. Direct and indirect support in terms of praise and encouragement helps maintain their motivation.
Example Activities: Student polling, document annotations, and peer reviews can help boost participation while providing much-needed feedback to learners.
C – Curiosity:

Surprise, Intrigue, Unknowns
Nothing sparks human interests more than curiosity. The prospect of "what lies beyond" or "what if" has driven curious minds for centuries. Apparently, desire for knowledge knows no bounds.
Example Activities: Relevant news events on the Web and A Day in the Life of a known figure in the field can bring excitement and fulfill learner curiosity.
V – Variety:

Novelty, Fun, Fantasy
Variety helps keep the online course fresh, fun, and interesting. This is one of the areas where technology can be used to blend work and play.
Example Activities: Search competitions and time-constrained presentations (PechaKucha or similar) can add diversity and energy to the course dynamic.
A – Autonomy:

Choice, Control, Flexibility, Opportunities
Giving learners control over their own learning raises their intrinsic motivation and creates positive influence towards their performance. As a result, learning is more personal and more valuable to each individual.
Example Activities: Activities that give learners freedom to explore related materials and report back or answer questions such as Open Explorations or Hot Seat Questioning can give them opportunities to choose their own path for learning.
R – Relevance:

Meaningful, Authentic, Interesting
Assigned tasks should be relevant and meaningful. Assignments should be authentic–as close to the real world as possible.
Example Activities: Video demonstrations and expert interviews are some of the activities that can add interest and meaning to learning materials.
I – Interactivity:

Collaborative, Team-Based, Community
Social interaction through collaborative activities helps learners acquire new skills and steers them to their path of success. Thoughtful planning & design and sound online pedagogy can create productive and successful online interactions.
Example Activities: Leader of the field role play and product brainstorming are some of collaborative activities that can stimulate creativity and concept application.
E – Engagement:

Effort, Involvement, Investment
Learner engagement leads to learner success. Learners are engaged when they are deeply involved in the content, exercise higher level of thinking, and actively interact with others on the subjects.
Example Activities: For learner-content engagement, interactive online contents such as interactive maps, timelines, or videos can increase the level of learner engagement in an online environment.
T – Tension:

Challenge, Dissonance, Controversy
The feeling of achievement and reward is more pronounced when learners complete challenging tasks than easier or less challenging ones. Controversy and dissonance help prepare learners for conflict resolution in the real world.
Example Activities: Online debates and challenge-based competitions can lead to expanding resources on the issues and increasing learner effort respectively.
Y – Yielding Products:

Goal Driven, Purposeful Vision, Ownership
The end product is a result and evidence of learning throughout the course. It adds value and purpose to the learning process and gives learners quality creation to be proud of.
Example Activities: Videos and animations give learners freedom of expression, while online poster sessions showcase their work and garner feedback from others.
How to Use this Resource
Some of the activities and ideas from TEC-VARIETY are not for every discipline. Seek out a principle that may not be one of the strongest in your course and start small. Begin with an activity that suits most within your discipline, your course, and your teaching style. After a successful trial, increase frequency and/or depth while adjusting to your comfort level. Then, slowly expand to other principles. In some cases you may find that adding one principle may increase the opportunity for other principles.
Visit tec-variety.com for 100+ activities, ideas, and related technology for the tasks.
Photo Credit: Old World Inspirational Sign – HDR by Nicholas Raymond