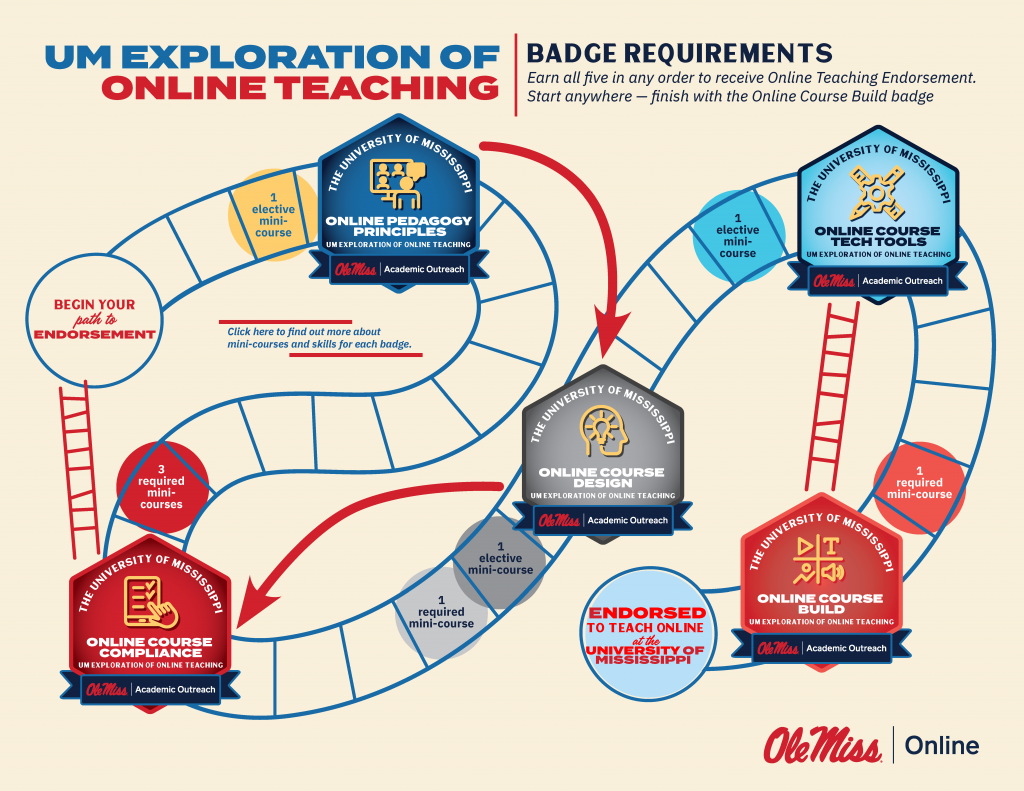 UM Exploration of Online Teaching is a badge pathway to earning online teaching endorsement at UM. The badge pathway is available to current and incoming UM instructors, teaching staff, and graduate students who are interested in aspects of online teaching, course design and development. Participants are awarded a digital badge upon successful completion of each course series. Collect all five badges to receive endorsement.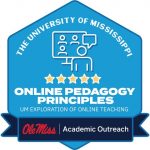 Online Pedagogy Principles
The Online Pedagogy Principles badge is focused around the principles and standard practices of online teaching and student-centered learning. The series is designed to encourage instructors to promote meaningful interaction and student engagement in a primarily asynchronous online learning environment. See available courses for Online Pedagogy Principles series.
Online Course Compliance
The Online Course Compliance badge is centered around topics and methods required for a compliant online course at UM according to university policies and federal guidelines. See available courses for Online Course Compliance series.

Online Course Design
The Online Course Design badge is focused around outlining online course structure and designing course components that align with the learning objectives and support student learning. See available courses for Online Course Design series.

Online Course Technology & Tools
The Online Course Technology & Tools badge is focused around common instructional tools available to University of Mississippi community. Participants will use the tool to create a deliverable. See available courses for Online Course Technology & Tools series.

Online Course Build
The Online Course Development badge, intended to be completed after all other badges, is focused around the how-tos of building an online course and course materials. Participants will create a deliverable from their planning and design. See available courses for Online Course Build series.
Badges and an Award of Completion will be issued through Sertifier, an online platform for badge validation and security. Recipients will receive emails from Academic Outreach through Sertifier, confirming each badge earned and a completion of endorsement to teach online after collecting all five badges.
After receiving an email notification, participants can:
Download the badge as PDF, PNG or JSON,
Add to their LinkedIn Profile,
Share on social media, and
Verify using serial number.