Reflections of a New Online Instructor – Episode #5
So what motivates our students, and what can I do to motivate in my role as an online instructor? Researchers, faculty and students like to say that grades are the best motivator. I would like to motivate them before they are graded.
I started my online course by setting the climate and preparing a comfortable environment for my students. I wanted to "personally" welcome them so I made an introductory video in which I shared the course expectations and guidelines for successful completion of the course. I also provided information about my availability which included my cell phone number, email address, and times I would be available as well as my response rate.
In the introductory video, my students are advised to access the syllabus and become familiar with assignments, participation expectation, and due dates. The idea is that if students are aware of course expectations, they can more easily plan their schedules. In addition, on Mondays, I will post weekly announcements as a way of helping students stay on track with the course schedule.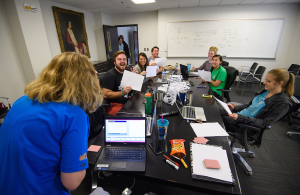 Another strategy is to create engaging content—not always easy by the way. I created videos, found journal articles, and identified links to other resources. I regularly share links or videos of recent events as they relate to the topic for the module/week via announcements or discussion forums. Students are expected to view these resources as they are aligned with the assessments and/or discussions in the unit/module. Additionally, for weekly discussions, individual students are assigned to be discussion leaders and to highlight and summarize the topic that was discussed.
My course does have quizzes, and they are used as a means of verification that my students know the materials. I want them to be able to apply and implement new content. I also have case studies and a project that will encourage them to explore and actively participate in discovering solutions.
To summarize, research demonstrates that students at a distance want the freedom to set their schedule and work at their own pace. However, they also want to know that their instructor is available when needed. Students appreciate detailed instructions, information and direction for their assignments as well as timely feedback.
Peer reviewing and having students work together in groups are methods I have explored as motivators. Using discussion forums, wikis, blogs, emails, journals, as well as the synchronous communication tools (i.e. Zoom, Skype and Google Hangouts) are ways an instructor can facilitate student to student interaction as well as instructor to student interaction. Any form of communication helps remove the feeling of isolation.
Taking the time to encourage students, especially ones who are lagging behind, by sending a personal email is often well received by the student and motivates them to keep trying. Another idea that I have found to be successful is sharing examples of good work with the class. This has helped motivate and encourage others to keep trying. Overall, I think that adding a personal touch to your course and "being there" for your students is the best form of motivation.
Did you miss the previous episodes? Read Episode #1, Episode #2 , Episode #3 and Episode #4.