Reflections of an Online Instructor – Episode #2
I am getting ready to work on my syllabus – the course's most important document – some consider the syllabus to be a contract with students. Contract may be a little strong, but the syllabus is certainly the most important document I will share with students in my course.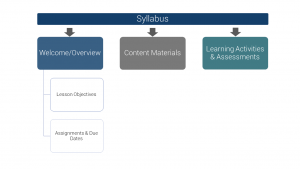 Based on literature, as well information shared in the eTC (eLearning Training Course), I know that my course objectives and learning outcomes, a critical component of the syllabus, must be aligned with course activities and assessments. This means my objectives must relate directly to the course's content and my instructional activities.
I found an interesting journal article by Raible, Bennett and Bastedo about writing learning outcomes and objectives. This was helpful to me as it suggested that learning outcomes and objective development should occur early, maybe right after the course description is written, in the course design process (2016). They also stress that outcomes and objectives serve as a roadmap for the students to follow during the course. I think the syllabus will be my roadmap also.
Objectives provide a framework so assessments can be created. All this helps students to understand what they are supposed to be able to do as a result of instruction (Raible, Bennett and Bastedo, 2016). I understand that one simple way to write objectives is the three-part approach:
Givens (what instruction will be provided),
Behaviors (what observable performance is expected of the learner),
Assessments (how performance will be assessed; often rubrics are used here—rubrics will be the theme of another blog posting).
During my coursework, one of my textbooks was Teaching and Learning at a Distance by Simonson, Smaldino and Zvacek. They indicate that a typical online course syllabus is very similar to the syllabus used in a traditional face-to-face classroom. The main difference is that the online course syllabus needs to be somewhat more specific, detailed, and complete (2015). The online syllabus should contain:
course logistics such as the course title and catalog description,
instructor information,
office hours,
textbook and course materials lists
instructional activities including a semester timeline
assessment information, and
course policies such as attendance policy, testing policy, copyright notices, IT Appropriate Use Policy, Academic Integrity policies, student identity and privacy policy;
For a new online instructor, syllabus writing can be quite a task.  I had to plan my entire course ahead of time in order to write my syllabus. Preparing the syllabus, including the development of objectives, helps me to think of ways that I can produce and organize my content when I get to the next step in the course creation process—the design phase.
And, it is never too soon to start thinking about how I can motivate my students and keep them engaged. I want my students to feel connected and I am trying to think of ways to humanize my course.
I do not think I am being too ambitious—I have been told that the better the plan, the easier everything else will be.  We'll see in the next blog post, Episode #3, when I begin to design my course!
Did you miss Episode #1? Find it here.
References:
Raible, J., Bennett, L., & Bastedo, K. (2016). Writing measurable learning objectives to aid successful online course development. International Journal for the Scholarship of Technology Enhanced Learning, 1(1). 112 – 122.
Simonson, M., Smaldino, S., & Zvacek, S. (2015). Teaching and learning at a distance: Foundations of distance education, 6th ed. Charlotte, NC: Information Age Publishing.