BYOD Initiative with Integration of Microscope Adapters
Dr. Carol Britson, with the Department of Biology, was the recipient of a Technology Integration Grant from Online Design & eLearning. Dr. Britson's grant proposal was for the integration of microscope adapters in BISC 206 and BISC 207. Britson explained that "The adapters will allow the students to take high quality pictures through the microscope with their mobile devices in the laboratory by aligning the focal points." The goal is to improve student engagement and performance.
Dr. Britson and her honors thesis student, Kelsey Hillhouse, gathered evidence-based data for educators interested in using smartphones in the laboratory during the Spring 2016 and Fall 2016 semesters. Data from the Spring 2016 findings was presented at a poster session at the Human Anatomy & Physiology Society Annual Meeting May 2016. They plan to present data from the full project at the 2017 Annual Conference for Human Anatomy & Physiology.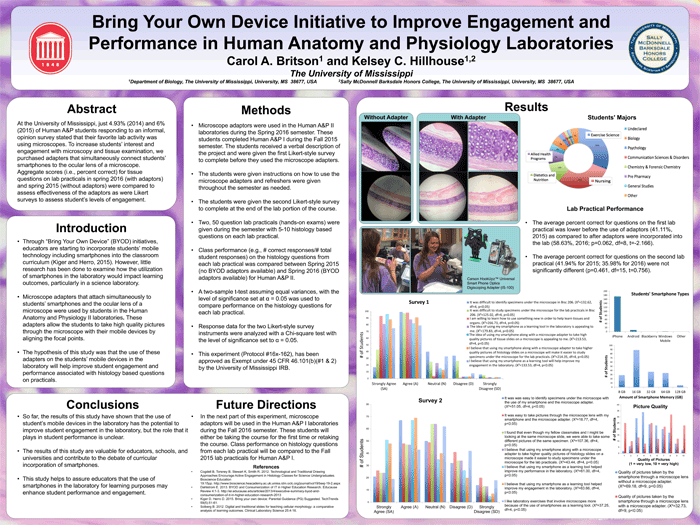 Poster Presentation from the Human Anatomy & Physiology Society Annual Meeting. Click on the image for full-size poster.