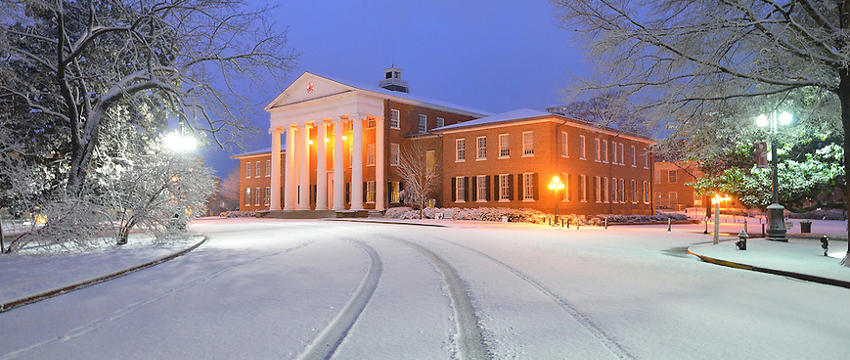 Inclement Weather Preparation for Winter Intersession
Mississippi experiences 0.1 – 6 inches average annual snowfall according to weather.com. While that number is on the low end, accumulated snow and ice can shut down schools and universities. University closing means that classes must be postponed. If closing days include your scheduled exams or final exams, the delay can be costly. To help you prepare for the unexpected circumstances, we have gathered some of the online or distance learning techniques that can be implemented with short notice.
Preparation
It is strongly encouraged that you enable Blackboard for your Intersession course and make it available to your students prior to the beginning of the semester. This will ensure you have a backup plan in place when the weather strikes.
Resources
Winter Intersession Preparation Checklist
Step-by-step Handouts:
Enable Blackboard Guide from FTDC
Upload your Syllabus as a Blackboard Item
Upload a File in Blackboard
Create a Discussion Forum in Blackboard
Create an Assignment in Blackboard
Post a Video or a  Web Link
Record Audio in PowerPoint
Record a Short Video in Screencastomatic
Lectures
Narrate your PowerPoint slides or record a screencast as a way to deliver course content. You may use a computer with a microphone or a tablet to create this type of lecture. Your recording can then be uploaded to Blackboard for student viewing. External materials such as articles, blogs, videos, or websites may also be posted on Blackboard. As a precaution of accessibility, provide transcripts or notes as an alternative mean for your talk.
Helpful Resources:
6 Tips for Creating Engaging Video Lectures
Record a PowerPoint Slide Show with Narration
Add Files, Images, Audio, and Video to Blackboard
Assignments
Plan to give an assignment in class? Move it to Blackboard. You can create an online assignment in Blackboard that will allow students to submit their work online, either by attaching a file or typing directly into a text box. Student submissions are collected in the Grade Center, which makes it easy to keep track of their completion status. For those with plagiarism concerns, use SafeAssign to collect student papers on Blackboard.
Helpful Resources:
Create and Edit Blackboard Assignments
Use SafeAssign in Blackboard Assignments
Class Discussions
For a discussion-based class, create an online discussion board on Blackboard. It only takes a minute to do so and your students will have access to it immediately. Then it is a matter of communicating with them, letting them know where the discussion is and what they are expected to do.
If text-based discussion is not sufficient for your class, try video conferencing. Get a free Zoom videoconferencing account, create an online meeting, and send the link to students. Signing up is a breeze and the interface is user friendly. You will have up to 40 minutes per session for group meetings and you can have as many people as you'd like in a video conference session.
Helpful Resources:
Create Blackboard Discussions
Strategies for Creating Online Discussion Prompts
Getting Started with Zoom
Exams
In case of utmost emergency, you may administer an exam online. This may require you to adjust your exam format bearing in mind that non-proctored online exams are equivalent to take home, open book, open Internet exams. SafeAssign in Blackboard is a useful tool that detects plagiarism in student papers. You may set availability date and time to limit student access to the exam.
Use of alternative assessments, also referred to as authentic assessments, are greatly encouraged. After all, assessments are not limited to multiple choice or timed essay tests. For examples and ideas, check out articles from University of Minnesota and University of Indiana Bloomington.
Helpful Resources:
Create and Edit Blackboard Assignments
Use SafeAssign in Blackboard Assignments