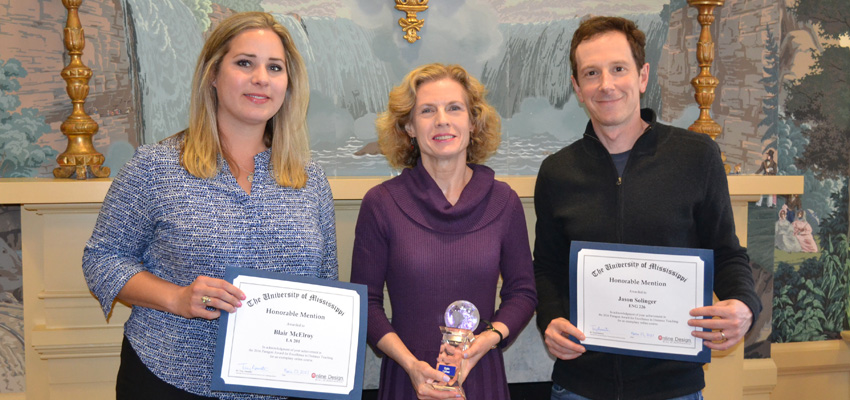 Robin Street, center, Senior Lecturer of Journalism, was named the 2016 Paragon Award recipient. She was joined by Blair McElroy, left, Director of Study Abroad and Adjunct Instructor in Legal Studies and Jason Solinger, Assicoate Professor of English, who received Honorable Mentions.
2016_Paragon_recipient
ODeL participated in UM FacChat, a CETL event, on hybrid teaching.
We are Online Design & eLearning.
ODeL provides real-time captioning services in lecture halls.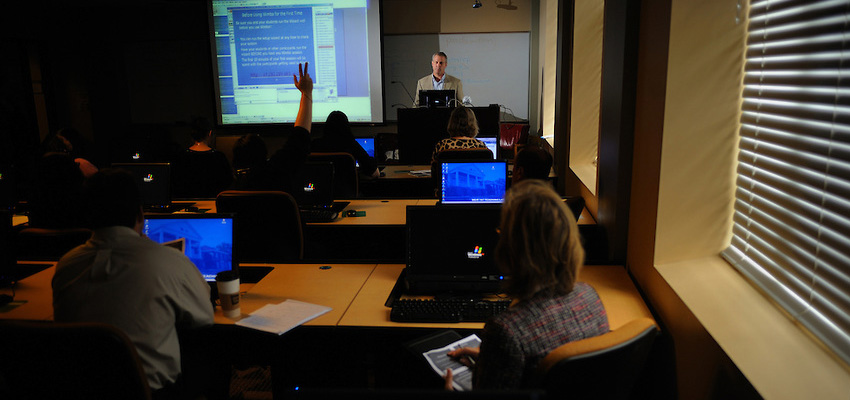 ODeL's Instructional Design & Training Specialists conduct workshops throughout the year.
Faculty Focused
Online Design & eLearning office offers a variety of services and resources to support faculty teaching online and hybrid courses at The University of Mississippi. This blog site provides faculty members with resources for faculty development opportunities, web-based course design, regularly updated online teaching resources and tools, and online faculty activities.
Latest Updates
Robin Street Named 2016 Paragon Award Recipient

Robin Street, Senior Lecturer in Journalism, was awarded the 2016 Paragon Award for Excellence in Distance Teaching. Blair McElroy, Director of Study Abroad and Adjunct Instructor in Legal Studies and Jason Solinger, Associate Professor of English, were awarded Honorable Mentions. Read the full story.

PASSHE Virtual Conference

ODeL is sponsoring the live broadcast of Transforming the Teaching & Learning Environment: The 2017 PASSHE Virtual Conference on February 13-24, 2017.

eLearning Tool Review: Zoom Video Conferencing

Zoom (zoom.us) is a web-based service for online meeting and video conferencing. It works on Windows, Mac, and mobile devices that run iOS and Android. Zoom is comparable to Skype and Google Hangouts but anyone can join a Zoom meeting without having an account.