Dr. Bart Garner (Management Information Systems)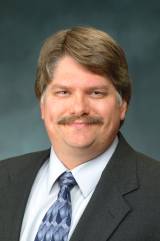 Dr. Bart Garner is the Director of Information Technology and an Assistant Professor in the Department of MIS at the University of Mississippi's School of Business.
Dr. Garner developed his online class by using existing commercially available class material which includes recorded video lecture material this is designed to test the student's ability to apply course material to real-world scenarios. His course is also enhanced through a series of exercises and case studies. Much of this material is now used to support the instruction of 450 students per semester.
Dr. Garner has published several scholarly articles individually and collaboratively in his field. He was nominated for the SWBDA Innovative Achievement Award in recognition of incorporating online material in the traditional classroom as well as being elected for the 2009-2010 recipient of the Outstanding PMBA Instructor Award by the PMBA students.
In addition to his scholarly achievements, Dr. Garner is a member of several service organizations which promote the application and advancement of Management Information Systems.
Dr. Garner was nominated for his online course MBA 613, Mobilizing Technology in the Modern Business – part of the course requirements for the Professional Master of Business Administration.